We were introduced to geocaching from some friends of ours from Wisconsin. We had their daughter visiting us and she was raving about the treasure finding nature of the geocaching itself. With her encouraging us, we decided to try it out. We did not own a handheld GPS and thus we tried to use our car GPA. All I have to say about that is that while a car GPS will help you find a house, it is no good for geocaching itself. We were finding ourself walking around in circles, and when we did actually find a few caches they were nowhere near where the GPS mentioned it was.Geocaching has become a huge pastime, and anyone who does this gets registered on
Geocaching.org
. On this site people put up caches that they develop for people to find. While some caches are large and contain thing that you can swap, there are others that are very small, and it is more like finding a needle in a haystack (which is half the fun).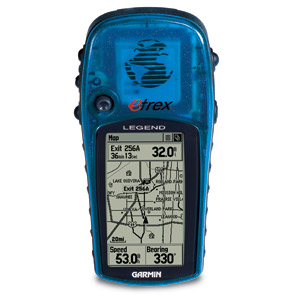 After doing this we decided to invest in a hand-held GPS. I had heard nothing but good things about Garmin products, so I watched
Craigslist.com
for a while and eventually found a
Garmin E-Trex Legend
that looked good, and purported to be able to hook into the computer for easier Cache entry. Well… I purchased the GPS and came to find that the plug that it came with was one in which I did not have a receptacle on my computer, so I found a vendor online that had a plug that was said to work as a patch in the regard. Unfortunately, when it arrived the Driver did not seem to work, so I was back to square one with a child that was bugging me to go geocaching.
So needless to say I decided to do it the long way and entered in a number of coordinates and on one Sunday afternoon we took off together and went exploring just the kids and I. We had a blast. Even Diva-PJ got into it (after falling asleep for a power nap). We found a few caches and we had a few that still eluded us, at least at that point.
So I think we are hooked. We have a number of other ones that we would like to find as well, so this hobby will keep us busy for some time in the future.
So become a treasure hunter and try
Geocaching
today.

——————————————————————————————-
New to the Divadom?
Please Subscribe to my RSS Feed! Subscribe in a reader
Questions?Drop me a line at [email protected]