About the Movie
The perfect movie for everyone arrives home this summer with the irreverent yet heartfelt sequel to the blockbuster sensation in The Secret Life of Pets 2, debuting on Digital August 13, 2019 and on 4K Ultra HD, Blu-ray™, DVD and On Demand August 27, 2019.  From Illumination, the studio that brought you the original Despicable Me, Minions and Sing franchises, the highly anticipated follow up to the hit animated film led by a star-studded comedic cast reunites all of our favorite Pets and their growing families in a new chapter that explores the deep bond between them and the humans that love them. The 4K Ultra HD, Blu-ray™, DVD and Digital versions of the film are packed with more than 90 minutes* of bonus content only when you own, including two brand new, laugh-out-loud funny mini-movies – Super Gidget, featuring the film's adorable Pomeranian Gidget and her best friend Max and Minion Scouts, starring everyone's comical little helpers, the Minions. Additionally included are deleted scenes, DIY and drawing tutorials as well as a special interactive Captain Snowball Motion Comic allowing viewers to direct our boisterous bunny hero on his next move exclusive to the 4K Ultra HD and Blu-ray™ versions!  As the dog days of summer come to an end, join this endearing cast of four-legged friends for a quality movie night of family fun with the film that uniquely reminds us of why we love our own pets and what makes them so very special.
The Secret Life of Pets 2 explores the emotional lives of our pets, the deep bond between them, the families that love them and answers the question: What are your pets really doing when you're not at home? Terrier Max (Patton Oswalt) is coping with major life changes after Katie's marriage and the arrival of a toddler, Liam. Meanwhile, Gidget (Jenny Slate) tries to rescue Max's favorite toy from a cat-packed apartment with a little help from her feline friend, Chloe (Lake Bell), who has discovered the joys of catnip. And Snowball (Kevin Hart) believes, despite the other pets' teasing, that he's a superhero after his owner starts dressing him in superhero pajamas. But when Daisy (Tiffany Haddish), a fearless Shih Tzu, shows up to ask for Snowball's help on a dangerous mission, he'll have to summon the courage to become the hero he's been pretending to be.
The film features an all-star voice cast including Patton Oswalt (TV's "A.P. Bio"), Kevin Hart (Ride Along Series), Eric Stonestreet (TV's Modern Family), Jenny Slate (Despicable Me 3), Tiffany Haddish (Girls Trip), Lake Bell (TV's Children's Hospital), Nick Kroll (Sing), Dana Carvey (Wayne's World), Ellie Kemper (TV's "Unbreakable Kimmy Schmidt"), Hannibal Buress (Neighbors series), Bobby Moynihan (TV's "Saturday Night Live") and Harrison Ford (Indiana Jones franchise) in his first ever role in an animated film as new farm dog, Rooster.
BONUS FEATURES ON 4K ULTRA HD, BLU-RAY™, DVD & DIGITAL
Mini Movies

Minion Scouts – When Margo, Agnes and Edith return from Badger Scout camp, three of the Minions are entranced by the girls' merit badges. Their own attempt at scout camp results in attracting a bear, eating poison berries and eventually blowing up a dam, creating a massive flood. But, when they arrive back home, the girls share their badges, encouraging the rest of the Minions to try their hand at scouting.
*DVD format includes over 75 minutes of bonus content
Super Gidget – When Max is kidnapped by an army of squirrels, Super Gidget is the only one who can save him. It turns out that Max's captor is a flea with the power of mind control. Gidget must use her pluckiness, strength and smarts to save her one true love…until it turns out it was all just a dream.
The Making of the Mini Movies – Every Illumination film is accompanied by mini movies that are a production all their own.  Each film's directing partners will explore how the mini movies were made.
Deleted Scenes

Wake Up – Max and Duke have a new morning routine with Liam.
Duke Explores the Farm – Duke has a funny interaction with a goat.
Snowball Karate – Snowball does his superhero warm up.
Secret Confessions – Dogs gather to talk about their deepest secrets

A Tapestry of a Tail: The Making Of – The plot of The Secret Life of Pets 2 involves multiple storylines ultimately coming together to create a larger than life tale. We talk with the filmmakers, editor and cast about the delicate dance of juggling multiple narratives in one movie.
How to Draw – Hosted by Head of Story, Eric Favela, follow the step-by-step tutorial to learn to draw Max, Snowball and Chloe
Frame by Frame: How to Make a Flip Book – In this DIY-style vignette, Head of Story Eric Favela will teach viewers about the essence of animation and how they can create their very own flip book animations at home.
Character Pods – Get a closer look at your favorite characters of The Secret Life of Pets 2 with these delightful character pods that might just give away a few more pet secrets.

Patton Oswalt – Max
Kevin Hart – Snowball
Eric Stonestreet – Duke
Jenny Slate – Gidget
Tiffany Haddish – Daisy
Lake Bell – Chloe
Nick Kroll – Sergei
Dana Carvey – Pops
Bobby Moynihan – Mel
Harrison Ford – Rooster

A Party Fit for a Pet – Using stop motion animation, this step-by-step guide teaches you everything you need to know to throw the very best party for your pet!
Pops' Puppy Training School with Kevin Hart – Join Kevin Hart as he shows off his dog training skills.
Pets Yule Log – Sit back and relax in front of this exclusive The Secret Life of Pets 2 themed animated 'Yule Log.'
Lyric Videos

'Panda' Lyric Video
'It's Gonna Be A Lovely Day (The Secret Life of Pets 2)' Lyric Video
EXCLUSIVE TO 4K ULTRA HD & BLU-RAY™
The Further Adventures of Captain Snowball (Interactive) – This animated 'Motion Comic' expands the world of our furry hero, Captain Snowball. Using a 'superhero' comic book style and custom animation, we discover more about the secret world of our caped crusader with a little help from our viewers. At key moments in the story, the viewer is presented with a choice: left, or right? Fight or flight? Their choice determines our hero's next move!
EXCLUSIVE TO 4K ULTRA HD & BLU-RAY™ & DIGITAL
My Buddy and Me – We interview the Illumination cast and crew talking about The Secret Life of Pets 2 while holding (or trying to hold) their pets.
Pets with Jobs: A Documentary – We find and profile animals with special jobs – a service dog that detects when its epileptic owner is about to have a seizure; ponies that provide comfort to children with cancer; police dogs that go the extra mile to catch the bad guys. Meet some of the many animals who make the world a better place every day!
Relax the Cat: The Secret Life of Pets Massage – A professional pet masseuse shows the cast how to read signs of tension in their pet and use massage techniques to keep their furry babies relaxed and happy!
Production Pets – It takes hundreds of people to make an animated movie and a lot of those people have pets that can't wait for them to come home. This piece is dedicated to all those faithful companions.
The Secret Life of Pets 2 will be available on 4K Ultra HD in a combo pack (4K Ultra HD+ Blu-rayTM + Digital Code). Bonus features on the 4K Ultra HD will all be delivered in stunning 4K resolution.
4K Ultra HD is the ultimate movie watching experience. 4K Ultra HD features the combination of 4K resolution for 4X sharper picture than HD, the color brilliance of High Dynamic Range (HDR) with immersive audio.

The Secret Life of Pets 2 4K Ultra HD is available with HDR10+™, providing a premium HDR picture quality. HDR10+ transforms your movie watching experience with incredible brightness and contrast for each scene, delivering brighter brights and deepest darks.

Blu-rayTM delivers a pristine HD picture and theater-quality surround sound.
Digital lets fans watch movies anywhere on their favorite devices. Users can instantly stream or download.
MOVIES ANYWHERE is the digital app that simplifies and enhances the digital movie collection and viewing experience by allowing consumers to access their favorite digital movies in one place when purchased or redeemed through participating digital retailers. Consumers can also redeem digital copy codes found in eligible Blu-rayTM and DVD disc packages from participating studios and stream or download them through Movies Anywhere. MOVIES ANYWHERE is only available in the United States. For more information, visit https://moviesanywhere.com
Transform yourself into the absolutely adorable Captain Snowball with your very own pair of DIY Captain Snowball Ears! Download the instructions now at http://bit.ly/SecretLifeOfPets2Craft THE SECRET LIFE OF PETS 2 is On Digital Now! On Blu-ray™ & DVD August 27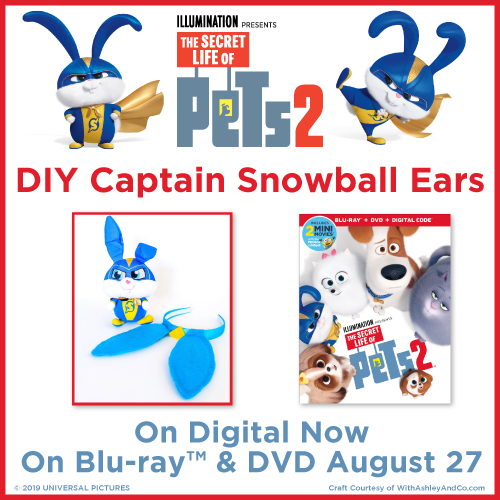 My Take on the Movie
We loved the first Secret Life of Pets and we wondered if this movie would be as much fun as the first movie. In watching this I have to say that it was as funny as the first in my opinion. There were some great new characters and you will find yourself laughing out loud (or at least I did) a number of times throughout the movie.
There are some great characters that are new to this movie, but there are also all of your favorites too. This was truly action packed and you will love seeing the growth that happens in the character of Max.
If you did not see this before, you should. If you have seen it before, definitely see it again!