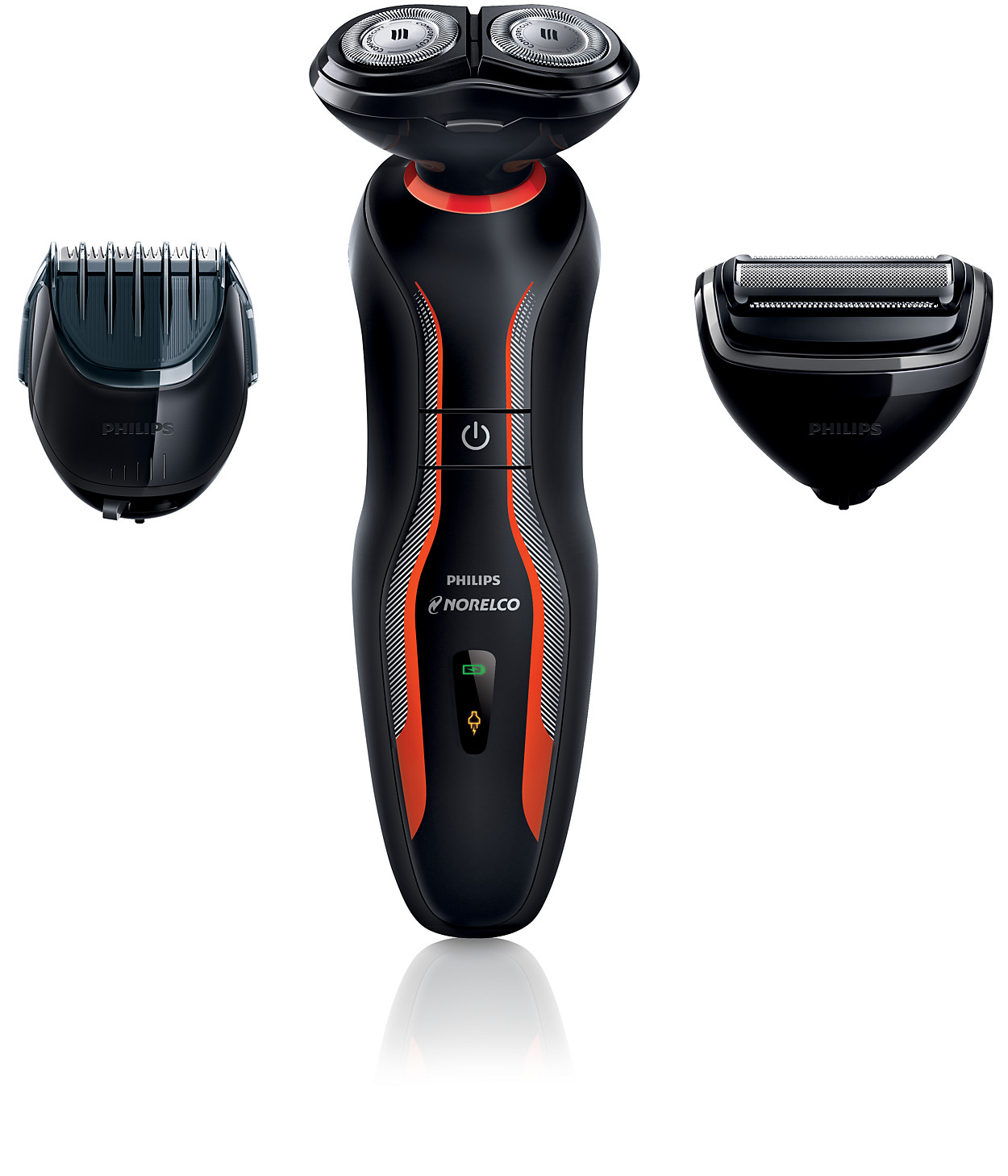 Since Philips Norelco knows guys love to game, for some fun added content, Philips Norelco has created the first-ever "Nail Your Game Playbook," a humorous guide on how guys can nail their grooming game and gaming game without leaving the couch.
WHY GO ELECTRIC?
For the same reason your momma told you not to run with scissors. Blades are not something
you want to be swinging near your majestic man-parts.
The Philips Norelco Click & Style is electric, which means you'll get the control and precision to get your perfect look—smooth face, perfect stubble and a well groomed body—every time.
WILL I GET A CLOSE SHAVE?
Two heads are better than one. That's why our shaving attachment has two rotary heads that move along the contours of your face, giving you a clean shave without nicks, cuts or hesitations. Your skin hasn't been this smooth since junior high.
CAN I GET ANY LOOK?
The styling attachment can make any look you've wished for come true. With five length settings, achieve a perfect five o'clock shadow, a flawless beard, or a 'stache that'll knock the stockings off that sultry slice of eye candy you're sipping mojitos with.
HOW ABOUT BELOW THE NECK?
Whether you keep it bear, bare or somewhere
in-between, hacking away at your body hair with anything but an electric can leave your skin feeling unbearable. That's why our bodygroom attachment has rounded blades and combs to be gentle on your man rug.
IS IT SHOWERPROOF?
The Click & Style is 100% watertight, so go to town on that fur sweater from the comfort of your shower and you just might find yourself gettin' dirty with some new friends lusting after that freshly manscaped treasure chest.
WILL IT HURT MY "JUNK?"
We'd never put your junk in harm's way. Quite the opposite in fact, the grooming attachment will safely help your junkyard look more like the family jewels they were born to be by doing some house cleaning on those short & curlies.

My Take on the Book
This was a razor that will allow you to get not only a close shave on your face, but also will allow you to take care of the other parts of your body that need grooming too. I really appreciated the fact that the razor did cut as close as it did, as I have tried other electric razors in the past and have come to find that they do not hold up and deliver on the results that they portend. That being said this razor does cut close, and even better, with the additional heads/attachments that are included, you are able to keep the rest of your bodily areas under control too.
The razor holds its' charge and I found that recharging also did not take too long. The razor is definitely portable, so whether you are at home on the couch, or on the road, you can take this with you and have just as good of a shave no matter where you are.
In the end, no matter what area of your body you are trying to control, this razor steps up to the challenge and for me it met and surpassed it. I highly encourage this to any guy that wants power and portability!

—————————————-
New to the Divadom or to Dad of Divas Reviews?
Please Subscribe to my RSS Feed! Subscribe in a reader
Questions? Drop me a line at dadofdivas@gmail.com