One of Marvel's most enigmatic, complex, and badass characters comes home in VENOM, which will made its debut on Digital December 11, and on 4K Ultra HD™ Combo Pack, Blu-ray™ Combo Pack, and DVD on December 18! This must-own comic book blockbuster, which has grossed more than $822 million in theaters worldwide to date, is directed by Ruben Fleischer (Zombieland) and features an all-star cast including Tom Hardy (The Dark Knight Rises, Mad Max: Fury Road), Michelle Williams (The Greatest Showman), Riz Ahmed (Rogue One: A Star Wars Story, TV's "The Night Of"), Jenny Slate (Zootopia) and Woody Harrelson (Zombieland, The Hunger Games franchise).
If you don't know much about Venom, it is the story of Eddie Brock, a good reporter who tries to do the right thing but does not always do them in ways that you or I would. In this movie he investigates someone that has a ton of power & influence and when he challenges him he loses everything. After some time he connects with a scientist that does not agree with the experiments that this person is doing and brings Brock in to expose it. In working to expose this he inadvertently becomes host to Venom.
As the movie continues the symbiotic relationship between Brock and Venom grows and you truly get to see each coming to need each other. The conflict in this movie is two-fold, first there is internal conflict between Venom and Eddie as they figure out the symbiotic relationship, but more than this is with the other symbiote "Riot."
Venom's lack of scruples pegs him as something of an anti-hero. In this movie you can see that Venom does grow and learn from Eddie. The story of the movie is easy to follow for audiences and because of the characters in the movie, most that I have spoken with have said that they like the characters and the writers allow the message to simply happen and it is not forced on the audience. The other reason that you have to love the relationship between Eddie and Venom is that they form a great team and both play off each other to become a great team!
While the movie may not be the same as the comic, I am ok with that as it was a lot of fun, with great action and characters!
Bonus Materials Include:
Venom Mode: When selecting this mode the film will engage informative pop-ups throughout the film to provide insight on the movie's relationship to the comics, and to reveal hidden references that even a seasonedVenom-fan may have missed!
Deleted & Extended Scenes: These deleted and extended scenes will give fans even more of the Venom action they loved in theaters!

Ride to Hospital – Eddie and Venom take a ride to the hospital.
Car Alarm – Let's just say that Venom is not fond of car alarms.
San Quentin – Extended post-credits scene at San Quentin.

From Symbiote to Screen: A mini documentary about the history of Venom in comics and his journey to the big screen. Interviews with Avi Arad, Matt Tolmach, Ruben Fleischer, Oliver Scholl, and Director and Comic Fanboy Kevin Smith.
The Lethal Protector in Action: Go behind the scenes with the production crew and learn the secrets behind the awesome Motorcycle stunts, wire stunts, and drones.
Venom Vision: A look at how Ruben Fleischer came to the project, gathered his team, and made Venom a reality. Utilizes interviews from cast, crew, and producers as well as Fleischer himself.
Designing Venom: Designing and creating Venom meant a huge challenge for VFX artists; follow the amazing journey.
Symbiote Secrets: Blink and you may have missed it! Enjoy the hidden references throughout the film.
8 Select Scenes Pre-Vis sequences: See the progression of the visual effects, storyboards and fight chorography compared to the finished film.
"Venom" by Eminem – Music Video
"Sunflower" by Post Malone, Swae Lee (From Spider-Man: Into the Spider-Verse)
Spider-Man: Into the Spider-Verse Sneak Peek: Meanwhile in another universe…
4K Ultra HD™ Includes:
Feature film presented with Dolby Vision high dynamic range and Dolby Atmos sound
Also includes the film and special features on the included high-def Blu-ray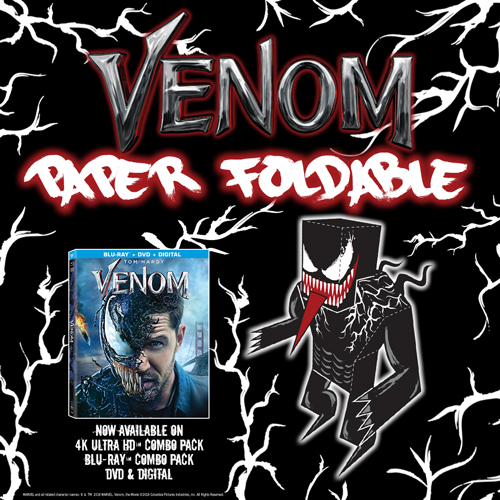 Giveaway
I am giving away a copy of the movie and this awesome shirt! How would you like to win this for yourself or for your family? All you need to enter is the following:
Share a comment about what you like or dislike about the character of Venom
ENTER THE GIVEAWAY – 
Winner must be a resident of the U.S.
Winners are chosen at random, if you want all your chances counted, make sure you leave individual comments, not all of them in one!
Winner has 48 hours to contact me or another name will be chosen.

——————————————————————————————-
New to the Divadom or to Dad of Divas Reviews?
Please Subscribe to my RSS Feed! Subscribe in a reader
Questions?Drop me a line at dadofdivas@gmail.com