Dyson AM01 10″ White/Silver – bladeless Dyson Air Multiplier™ table fan. With no fast-spinning blades, it's safe easy to clean, and generates smooth air with no buffeting. Dimmer-switch power control, 90 degree oscillation and touch-tilt. In white and silver.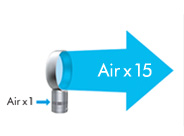 Air multiplier™ technology
An annular jet draws in surrounding air, multiplying it 15 times.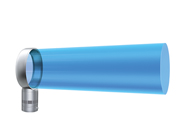 No choppy air
No blades chopping the air means airflow is smooth, with no unpleasant buffeting.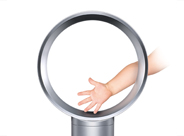 Safe
No fast-spinning blades.
Easy to clean
No awkward grills or blades.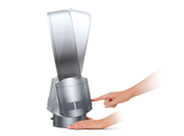 Touch-tilt
Pivots on its own centre of gravity, staying put without clamping.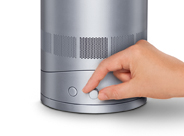 Dimmer-switch control
Precisely adjusts airflow power.
My Take on the Fan
I was very impressed with this fan and so were my girls. Not only did it push out much more air than any fan that I have ever owned, but it also is so small and took up so little space. You can keep this in almost any space and it does not take up much room. You also will be amazed at how little noise you will hear with this fan. The fan costs between $200-$300 depending on retailer. I even stopped in one shop and they tried to sell me one for less than $200 (on sale), but I must say that though it is more expensive, it definitely does out-perform other fans!  I have shared some more of my thoughts in the video below.
All opinions expressed in this review are my own and not influenced in any way by the company.  Any product claim, statistic, quote or other representation about a product or service should be verified with the manufacturer or provider. Please refer to this site's Disclaimer for more information. I have been compensated or given a product free of charge, but that does not impact my views or opinions.

——————————————————————————————-
New to the Divadom or to Dad of Divas Reviews?
Please Subscribe to my RSS Feed! Subscribe in a reader
Questions?Drop me a line at dadofdivas@gmail.com