ABOUT THE MOVIE
In the Incredibles 2, Helen (voice of Holly Hunter) is called on to lead a campaign to bring Supers back, while Bob (voice of Craig T. Nelson) navigates the day-to-day heroics of "normal" life at home with Violet (voice of Sarah Vowell), Dash (voice of Huck Milner) and baby Jack-Jack—whose super powers are about to be discovered. Their mission is derailed, however, when a new villain emerges with a brilliant and dangerous plot that threatens everything. But the Parrs don't shy away from a challenge, especially with Frozone (voice of Samuel L. Jackson) by their side. That's what makes this family so Incredible.
Coloring Sheets
Recipes
Activities
Remember when you saw INCREDIBLES 2 & thought to yourself, "I wish I had my very own Jack-Jack and Racoon!" Well, you're in luck! Check out these amazing Paper Foldables. Print 'em out, cut 'em out, & fold 'em up… Instant Jack-Jack Attack! http://bit.ly/Incredibles2PaperFoldables #Incredibles2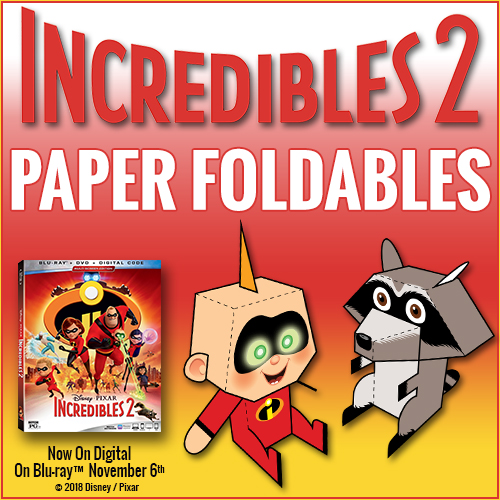 "The Underminer Has Escaped" clip:

"Cookie" clip:

Incredibles 2 | Fashion Show Deleted Scene

Incredibles 2 | Designing Fabulous

Learn More About The Incredibles 2
My Take on the Movie
This was a great addition to the Incredibles movies. After 14 years I was starting to wonder if we could get to see this amazing family in action again, and I am so glad that we did. I was a big fan of the original movie and I have to say that I loved this movie as much if not more than the first. Why? I believe that this movie captures the dilemmas many families feel in life. Being pulled in many directions, questioning your place, questioning your parenting abilities and more.
In this movie you get to experience all of this with the Parr family and so many more. The cast they chose for this movie was supurb! I love how well the group works together and you can really feel the chemistry in these relationships as well.
One of the other nice things was the addition of the other Supers to the film. As someone that loves Super Hero movies, shows and comics, it was great to see the uniqueness to some of these other Supers.
The villain in this film was also great. I will not spoil anything, but will say that some of the best villains in history are ones that you do not expect.
You will love to see characters that you have come to love back in this film. I love all of the characters, but having Edna back was a treat and having a special bonus feature with Edna and Jack Jack was even better!
The movie leaves open the opportunity for future films and to be honest I would love to see this, but sooner than another 14 years.
If you have not yet seen Incredibles 2 you need to today! Grab it on Amazon!

——————————————————————————————-
New to the Divadom or to Dad of Divas Reviews?
Please Subscribe to my RSS Feed! Subscribe in a reader
Questions?Drop me a line at dadofdivas@gmail.com