I will always remember what my Grandfather told me as he got older. He told me that one of the biggest regrets of his life was not taking better care of his teeth. You see, as he aged, he ended up having to have all of his teeth removed and he had to get false teeth because of the damage that happened to his own teeth over the years. I took this to heart and have always made sure to make it known to my own daughters how important dental health is for them as well.
No matter whether I had a job or not I always made sure that we were covered with dental insurance. For me, this was a must and hold to a strict schedule of visiting our Dentist to keep our teeth as good as we can.
There have been other changes that I have made over the years to help with this. Making sure to floss daily and giving up soda, were just two of them. Outside of this though, having a good toothbrush that really works well and taking the time to brush well is also vastly important.
I love that Smile Health Dental Plans has a number of plans to cover people from many walks of life. Best of all their prices are reasonable and will not break the bank. This is a good alternative for people that do not have work-based dental insurance and it allows you to either start a new dental routine or maintain a routine you have had for some time.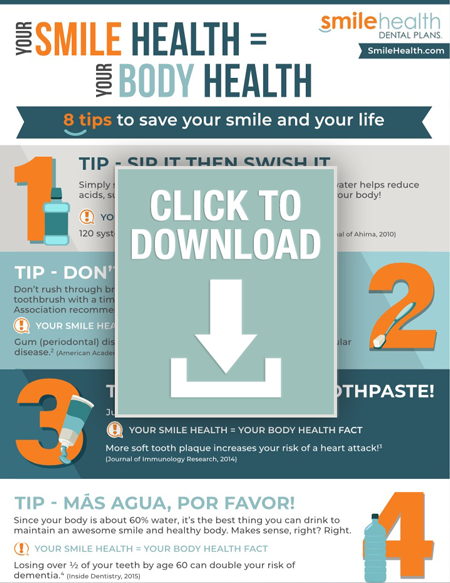 About Smile Health Dental Plans
Everyone knows it's important to go to the dentist to have healthy teeth, gums and a winning smile, but did you know that the health of your mouth, affects every part of your body?
It's true. It's not only what we put in our mouth that matters but how we take care of it, that leads to a healthy heart, mind and body. Good oral health can limit your exposure to heart disease, stroke and memory loss. This is why it's so important to start taking care of your oral health early, a healthy mouth equals a healthy you!
The people at Smile Health Dental Plans know this and they have come up with one of the most simple and affordable Dental plans on the market today!
Smile Health Dental Plans would like to know how you take care of your oral health and what you do to ensure a healthy smile!
Check out their website at https://smilehealth.com.
About Smile Health Dental Plans:
Smile Health Dental Plans are an affordable alternative to traditional dental insurance. Members pay an annual fee to receive discounts all year long. And with Smile Health Dental Plans there are no hidden costs, just savings of 20% or more on many preventative, restorative and cosmetic dental treatments. You get immediate benefits, no health restrictions, no waiting periods, no claims, no maximums, and more!
Giveaway
How would you like to win this the prize pack above for yourself or for your family? All you need to enter is the following:
Winner must be a resident of the U.S.
Winners are chosen at random, if you want all your chances counted, make sure you leave individual comments, not all of them in one!
Winner has 48 hours to contact me or another name will be chosen.
Each household is only eligible to win "Your Smile Health = Your Body Health" Care Kit via blog reviews and giveaways. Only one entrant per mailing address per giveaway. If you have won the same prize on another blog, you will not be eligible to win it again. Winner is subject to eligibility verification.
——————————————————————————————-
New to the Divadom or to Dad of Divas Reviews?
Please Subscribe to my RSS Feed! Subscribe in a reader
Questions?Drop me a line at [email protected]