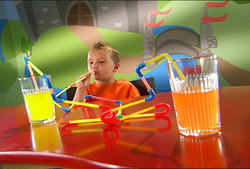 About the Product

Love the idea of having family and friends over for the holidays and throughout the year but don't know how to keep all the kids entertained? Now there's Super Sipperz™, packs of brightly colored rubberized connectors and straws that provide hours of unexpected laughter and entertainment for kids and the entire family. Best of all, whatever masterpiece your child builds becomes a functional straw for drinking juice, punch or water! Parents, you know how much your kids love drinking straws. Imagine how much they will love building and creating with their Super Sipperz. Super Sipperz takes drinking straws to the next galaxy!
Super Sipperz delivers interactive, creative and fun opportunities for kids of all ages and their families to build rockets, castles, dinosaurs, trains, or whatever your child can imagine. Use long winter days to turn simple project ideas into colorful compositions your kids will be proud to display.
Supper Sipperz are a boredom buster:
Hold a timed contest to construct one of the design ideas on http://www.GetSuperSipperz.com
Set up your own Constrawction Zone and create an awesome wearable, drinkable hat, tiara or helmet
Snack time becomes fun time when kids assemble their own amazing creations to enjoy their favorite liquid
Super Sipperz connects easily and quickly, which means kids can immediately tap into their seemingly limitless imaginations to build hundreds of designs. Each order comes with one pair of wacky straw glasses, nearly 57 colorful straws in two different sizes, and tons of brightly colorful rubberized connectors along with one convenient wash and carry mesh bag.
Super Sipperz are affordable, dishwasher safe and reusable, keeping tight shopping budgets in line this holiday season.
For the holidays, birthdays or any time, Super Sipperz celebrates the curiosity, creativity and originality of every child, while teaching basic skills such as concentration and teamwork. They make excellent birthday gifts and stocking stuffers, and multiple sets can make the most of play dates with friends. The more Super Sipperz you have, the more creative your child can become.
Super Sipperz are available online for $9.95 plus shipping and handling. For more information and to order, please visit http://www.GetSuperSipperz.com
My Take on the Product

I think super sipperz are awesome! The divas and I had a blast trying to develop architectural wonders that we could sip through. As my daughters simply love the idea of sipping through straws, showing them the video of this and the crazy things you could do with it, they were completely enthralled and of course wanted to start building immediately.
This product is wonderful for a parent as it encourages creativity and imagination. I have to admit that we had a blast and so much fun together, and though J-Mom was a bit concerned about us making a mess, we found that as long as we had tight connections we had no leaks, but we did have fun!
Super Sipperz is the perfect gift for the holiday season!
Giveaway
How would you like to win a Super Sipperz pack for yourself? I will be giving one away a to a lucky reader!
All you need to do 1) Subscribe to this blog 2) Dad of Divas Reviews Site and 2) Leave a note on Dad of Divas on Facebook about how what type of dancing your own children love to do. You will receive a new entry for each of the above steps. (Leave username in comment below) The contest will run for one week and will end on November 15, 2010.
Blog about my Giveaway by linking back to this post (1 entries per blog post. Please leave each entry in separate comments with your URL link in order for it to count)
Grab my badge to your sidebar
<a href="http://dadofdivas.blogspot.com/"><img src="http://i281.photobucket.com/albums/kk235/lewisca3/DadofDivasButton1.jpg" /></a>
Subscribe to the Dad of Divas Reviews Site
Subscribe to this blog
Follow me on Twitter (@dadofdivas) (leave username in comment)
Follow NCircle on Twitter
Follow me on Google Connect
Share this giveaway on Twitter, Facebook or any forum, including the name of the prize and a link to this post. Here I'll make it easier on you, copy and paste this:" @dadofdivas is giving away a Super Sipperz Pack – http://dadofdivas.com/giveaway #dadstalking" (Then leave the link to your post. One entry per place per day)
Become a fan of Dad of Divas on Facebook (Leave username in comment)
Make sure you comment separately for each task after the required entry task so you will get credit for each one ~ and leave your e-mail where you can be contacted.
This contest will run until November 15, 2010 at approximately 11:59 pm Eastern.
Winner must be a resident of the U.S or Canada.
Winners are chosen at random, if you want all your chances counted, make sure you leave individual comments, not all of them in one!
Winner has 48 hours to contact me or another name will be chosen.
All opinions expressed in this review are my own and not influenced in any way by the company.  Any product claim, statistic, quote or other representation about a product or service should be verified with the manufacturer or provider. Please refer to this site's Terms of Use for more information. I have been compensated or given a product free of charge, but that does not impact my views or opinions.
——————————————————————————————-
New to the Divadom?