This is a Sponsored post written by me on behalf of Walmart and Walmart Foundation for SocialSpark. All opinions are 100% mine.
While I know that we should be celebrating moms every day, I have to say that I go all out when it comes to Mothers Day, and try to make it special for my wonderful wife, J-Mom. J-Mom is amazing! She not only takes care of the home (as I work full time away from home), but also works part time too. She also cooks, cleans and overall organizes the whole home. All of this is just the tip of the icebearg as she puts me to shame and makes me want to be an even more-engaged positive father that my kids will look up to in the end.
To help shopper's give a gift with meaning this Mother's Day, Walmart's Empowering Women Together  program is offering products made by small women-owned businesses that range from scarves and aprons, to chocolate sets Walmart is reinforcing its commitment to empower women by expanding the availability of products made by small women-owned businesses from online in to more than 2,600 Walmart stores just in time for this year's Mother's Day shopping. Products will be available both online and in store. By purchasing one of these products, you lift and empower the women behind the scenes to create new jobs and improve both their own lives and the lives of their families and communities.
My daughter and I explored these products and I have to say that we were impressed. We were impressed not only with the breadth and depth of the products, but also the fact that the products were made by companies run by women. Many of the items that stood out for us were handmade and simply beautiful. In the handmade items, you truly could see the painstaking detail that was put into each of these items.
Being able to sit down and have the girls sifting through these items got them excited about mothers day in general, but also excited about making the day truly memorable for their mom specifically. I know that I for one want them to know and appreciate how much their mom does for them, even when they don't realize it.
Mothers Day is only one day, but it is a great day to say thanks to moms everywhere for the work that they do to make families run smooth, and to help families remain strong.
So if you are looking for a truly unique gift for that special mom, check out the Walmart's Empowering Women Together site, as you will be completely amazed at what you find!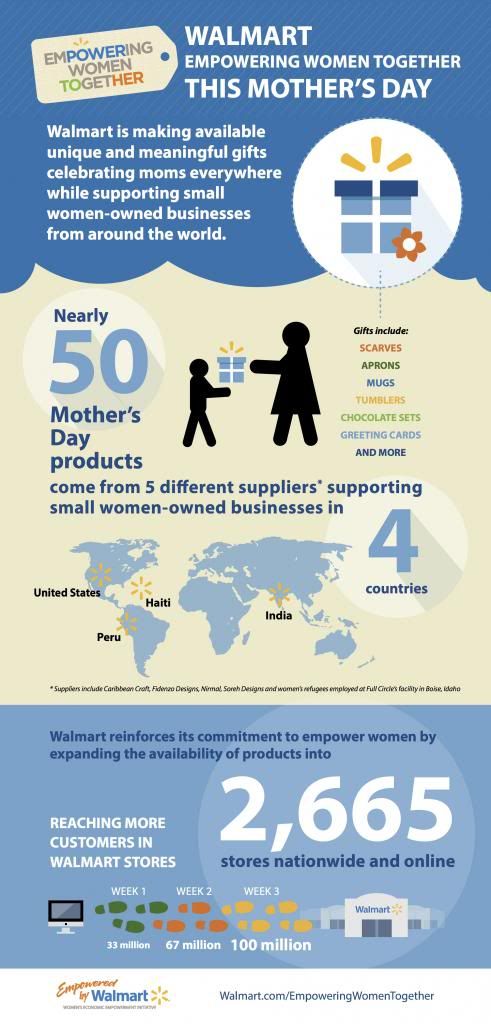 Related articles